HOW-TO-GUIDE: How to download and install updates on the navigation device (or software)?
When you purchased update(s), please click on the "Available Updates" button on the main screen. This is the last step to update your navigation device or software.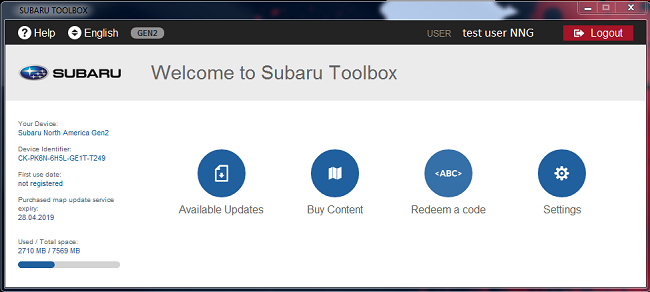 The "Available Updates" button opens a screen which shows all available updates, including:
Items that you have purchased but not yet installed (updates or extras),

Free updates and extras that you have eligibility for,

Special free updates (which are normally pay updates but your manufacturer or the Site operator provides them to you free of charge).
(Please note that Subaru Toolbox might give a slightly different download eligibilities for the different map updates: when you have purchased a package, you can always install it, however if the content is a free map update, it might happen, that only your dealer can install it for you. In these cases you have only a "More info" instead of the "Download" button. By pressing this button Toolbox gives more details about how the content can be installed.)
It is recommended to create a backup before this step to avoid data loss.
If you want to know how to create a backup, please go to the chapter HOW-TO GUIDE: How to make or restore a backup of the navigation device?
After checking in the desired content(s) you want to install, click on "Download" button. Subaru Toolbox will install every selected content onto your SD card.
A double status bar shows you the progress: the one on top shows the total ratio of the job already done, and the one at the bottom shows progress with the current file.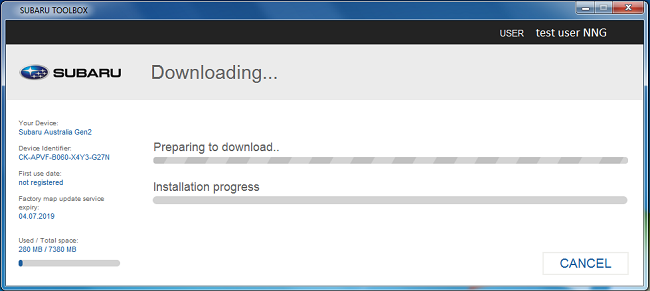 Please wait until you receive a message that the installation was performed successfully.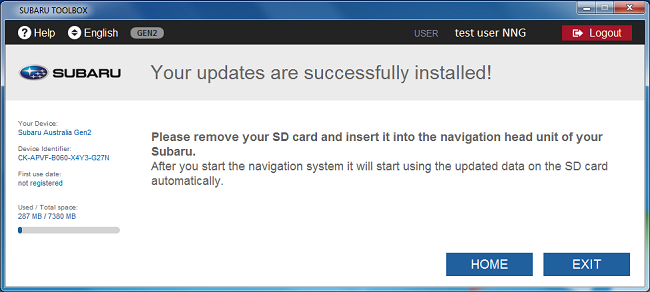 If you do not have enough space on the device, the "Download" option is not available for you.
! Also, if you do not wish to install everything at once, you can choose between updates to install on your device by using the checkboxes.